Special: Bitcoin 5-Day cycle.
If you had taken all long trades using the 5-day cycle from 3/1/2015 to 9/3/2020 your profits would have been 10186.08%
Get the Buy and Sell Dates for the next 365 days. $62.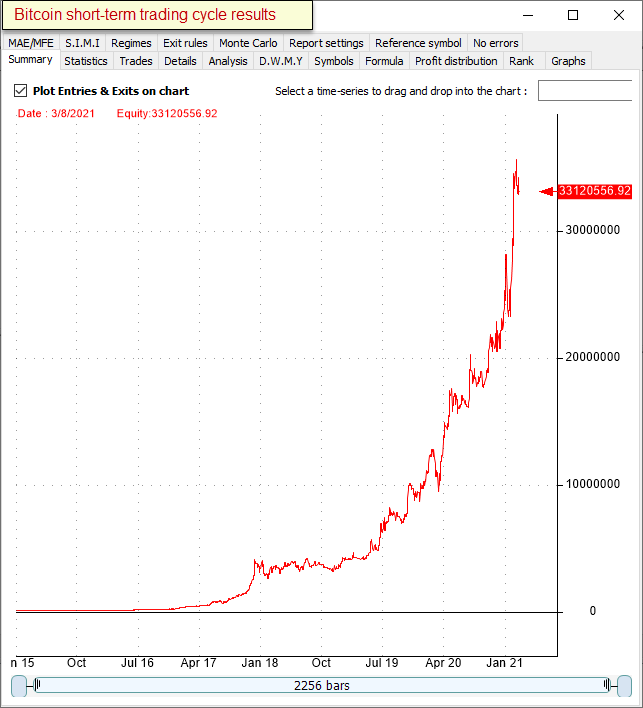 ---
Crypto Cycles
Finally, Cryptocurrency coins have been around long enough to build a large enough base of historic data that we can start applying cyclical analysis, and make forecast of when the coins are going to change direction. At this time, not all coins have strong enough cycles results, but these do (BTC, ETH, LTC, ETC, EMC, DGD and DCR).
Charts and forecasts will be included in the OSS Nightly Indicators newsletter ($49.95 mo.) along with forecasts for the usual assets: Stocks, ETF's, Futures and Forex.
For the week of Dec 15th, I will be posting the OSS Nightly Indicators newsletter on-line in place of the free newsletter. This will give everyone a taste of not just the OSS Nightly Indicators, but also the new crypto forecasts.
All newsletters are posted or mailed between 10pm and 11pm CST. http://oss.cc/Newsletter.asp
HOW TO READ THE CHARTS