Follow me at: Twitter | FaceBook | StockTwits
Market Activity for: July 17, 2019
MAJOR
Symbol
Last
Chg.
Chg. %
.DJI
27219.85
($115.78)
-0.42%
.DJT
10406.93
($387.66)
-3.59%
.NDX
7888.76
($38.31)
-0.48%
GBTC.PK
12.85
$0.24
1.90%
GLD
134.55
$2.19
1.65%
IWM
154.23
($1.09)
-0.70%
SLV
14.9572
$0.42
2.89%
SPY
298
($1.93)
-0.64%
TLT.O
131.97
$1.41
1.08%
UNG
19.87
($0.10)
-0.50%
US500
2984.42
($19.62)
-0.65%
USO
11.76
($0.32)
-2.61%
UUP
26.29
($0.05)
-0.19%




SECTORS
Symbol
Last
Chg.
Chg. %
RWR
100.79
($0.31)
-0.31%
XBI
85.52
$0.06
0.07%
XHB
42.44
($0.38)
-0.89%
XLB
58.04
($0.51)
-0.87%
XLE
62.44
($0.74)
-1.17%
XLF
27.84
($0.25)
-0.89%
XLI
76.86
($1.71)
-2.18%
XLK
80.44
($0.21)
-0.26%
XLP
59.92
($0.07)
-0.12%
XLU
60.77
$0.27
0.45%
XLV
92.19
$0.01
0.01%
XLY
123.21
($1.11)
-0.89%
XRT
42.63
($0.50)
-1.16%




CRYPTOS
Symbol
Last
Chg.
Chg. %
BCH
290.08
$7.79
2.76%
BTC
9645.3
$87.20
0.91%
DASH
102.64
$2.55
2.55%
DENT
0.0012
$0.00
0.00%
DGB
0.011071
$0.00
5.67%
EOS
3.8168
$0.08
2.12%
ETH
209.59
$7.18
3.55%
LTC
90.5
$10.82
13.58%
OMG
1.4087
$0.04
3.28%
RDD
0.0013
$0.00
10.36%
SALT
0.22776
$0.00
0.00%
THETA
0.1114
$0.02
21.48%
XRP
0.3105
$0.02
5.22%




FOREX
Symbol
Last
Chg.
Chg. %
AUD/JPY
75.66
($0.01)
-0.01%
AUD/USD
0.7008
$0.00
-0.01%
EUR/AUD
1.602
$0.00
0.07%
EUR/CHF
1.1082
$0.00
0.01%
EUR/GBP
0.9031
$0.00
0.05%
EUR/JPY
121.2
$0.06
0.05%
EUR/USD
1.1227
$0.00
0.03%
GBP/AUD
1.7739
$0.00
0.05%
GBP/JPY
134.21
$0.03
0.02%
GBP/USD
1.2431
$0.00
0.00%
USD/CAD
1.3056
$0.00
0.07%
USD/CHF
0.9871
$0.00
-0.03%
USD/JPY
107.96
$0.01
0.01%



Bullish TA
350
-17
New 52-week Highs
124
43
Strong Volume Gainers
17
-4
Bullish 50/200-day MA Crossovers
133
23
Bullish MACD Crossovers
13
-8
Oversold with an Improving RSI
236
26
Moved Above Upper Bollinger Band
261
-21
Moved Above Upper Price Channel
213
19
Moved Above Upper Keltner Channel
156
27
Improving Chaikin Money Flow
285
-47
New CCI Buy Signals
275
-55
Parabolic SAR Buy Signals
151
-48
Stocks in a New Uptrend (Aroon)
64
2
Stocks in a New Uptrend (ADX)
91
27
Gap Ups
7
5
Breakaway Gap Ups
20
6
Runaway Gap Ups
0
-1
Island Bottoms

Bearish TA
214
-4
New 52-week Lows
89
14
Strong Volume Decliners
26
8
Bearish 50/200-day MA Crossovers
482
198
Bearish MACD Crossovers
45
5
Overbought with a Declining RSI
270
62
Moved Below Lower Bollinger Band
308
109
Moved Below Lower Price Channel
187
55
Moved Below Lower Keltner Channel
182
51
Declining Chaikin Money Flow
484
109
New CCI Sell Signals
506
163
Parabolic SAR Sell Signals
131
-7
Stocks in a New Downtrend (Aroon)
61
19
Stocks in a New Downtrend (ADX)
101
-6
Gap Downs
9
3
Breakaway Gap Downs
20
7
Runaway Gap Downs
1
1
Island Tops

Bullish Reversals
50
-33
Bullish Engulfing
6
-1
Piercing Line
0
0
Morning Star
13
2
Bullish Harami
11
9
Three White Soldiers

Bearish Reversals
113
20
Bearish Engulfing
10
1
Dark Cloud Cover
1
-4
Evening Star
44
27
Bearish Harami
33
22
Three Black Crows

Bullish P&F
1999
-29
P&F Double Top Breakout
268
-2
P&F Triple Top Breakout
47
1
P&F Spread Triple Top Breakout
631
-10
P&F Ascending Triple Top Breakout
26
-3
P&F Quadruple Top Breakout
74
-1
P&F Bearish Signal Reversal
49
0
P&F Bear Trap
25
-2
P&F Bullish Catapult
38
-2
P&F Bullish Triangle
378
-1
P&F Low Pole

Bearish P&F
1783
6
P&F Double Bottom Breakout
242
9
P&F Triple Bottom Breakdown
36
2
P&F Spread Triple Bottom Breakdown
599
3
P&F Descending Triple Bottom Breakdown
39
-2
P&F Quadruple Bottom Breakdown
37
-2
P&F Bullish Signal Reversal
35
-1
P&F Bull Trap
23
1
P&F Bearish Catapult
55
-3
P&F Bearish Triangle
274
12
P&F High Pole
51
-4
P&F Long Tail Down
---
Comments
STNE had a Bullish multiple reversal signal last week. PEP and TGT had Bearish reversal signals.
The Master Cycle for stocks has now topped out.
For those not familiar with astrology, Pluto represents disease, epidemics, banks and debt. The news has been full of this topics, and it is growing.
Subscribers were told to expect a lower close on Wednesday. DJIA -114. That would be a 100% if trading some Nadex Binary Options.
The purpose of these charts is trade short-term options when multiple reversals occur. See the ABT chart below.
Silver hit its target. See chart below.
FDX: I called a top on Tuesday See the chart below. It dropped 2.79%
---
Tolstunka Predictions
JUL 15, 2019 (MON): Medium influence; market may possibly go down (55%). The down influence is stronger in the late afternoon.
Jul 15-17 (esp. 16-17) — Increased focus on businesses related to steel, minerals, metals, coal, rocks, large scale construction, mining, etc. as well as governmental projects and large corporations. Also, increased focus on farming, food prediciotn, land, real estate, assets, banks' savings, stability, and homeland security. There may be concerns about profits or availability of funds, lack of savings, decreased assets, decreased value, losses, pollution, etc. Additionally, there may be increased news about earthquakes, aftershocks (SoCal?), volcano eruptions, landslides, old buildings being destroyed, expenses associated with earthquakes, etc. Lastly, there may be a large market move (probably a drop) with Jul 16-17 being the bottom (or peak) dates — there may be a sense of needing to proceed cautiously and focus on long term perspective or on protecting current assets.
JUL 16, 2019 (TUE): Strong influence; market may possibly go down (75%).
Jul 16-17 — Likely, larger than usual trading volume or price volatility. Focus on some important events related to governments (e.g., announcements about long term strategic planning, reshuffling of leaders, etc.), large corporations, losses, reduced ability to save (e.g., because of the lower rates), problems with cash availability, corporate restructuring, and/or introducing limitations/controls to reduce losses (e.g., food rationing, rethinking investments in real estate, etc.), or investments in infrastructure because something is about to collapse.
China: Jul 16-17 — Increased likelihood of important announcements related to banks, financial institutions, investments, expenses, taxes tariffs, insurance, rates, and investments as well as healthcare, workforce, oil, chemicals, pollution, and navy-related projects. The announcements may be perceived as the necessary evil or public's opinion on the announcement may be strongly divided. For ex., a large scale project may be announced (e.g., related to navy, oil, water, or pollution) that will require a large sum of public funds. Finally, there may be some vague, confusing, or uncertain news about secrete negotiations, which may cause uncertainty about future profits.
JUL 17, 2019 (WED): Strong influence; market may possibly go down (65-70%).
JUL 18, 2019 (TH): Strong influence; market may possibly go up (55%). Likely, a reversal in the market direction from the 17th (probably from down to up). The reversal may occur in the afternoon or not until Fr morning.
JUL 19, 2019 (FR): Medium influence; market may possibly go up (55-60%).
---
Bitcoin Forecast for 2019
This years forecast also includes an interactive Excel workbook with all the cycles on one chart.
Checkout the past forecast and how Bitcoin price reacted.
Get your copy here
50% off = $65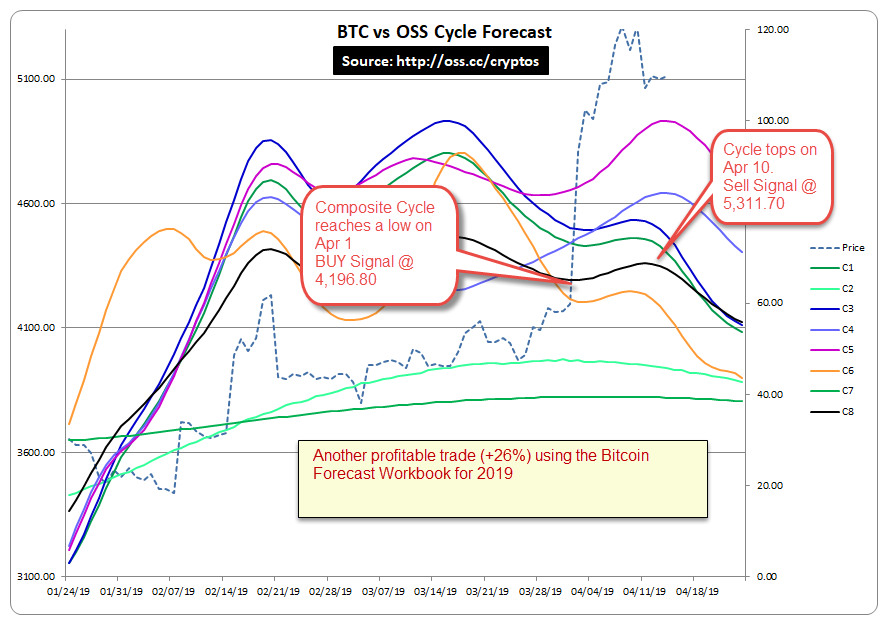 Do you see why I said you should have gotten the report by the end of the week?
---
NIGHTLY NEWS
http://money.cnn.com/data/fear-and-greed/
---