Follow me at: Twitter | FaceBook | StockTwits
Market Activity for: September 17, 2019
MAJOR
Symbol
Last
Chg.
Chg. %
.DJI
27110.8
$33.98
0.13%
.DJT
10705.65
($24.63)
-0.23%
.NDX
7888.79
$36.37
0.46%
GBTC.PK
12.79
$0.54
4.41%
GLD
141.62
$0.30
0.21%
IWM
157.55
($0.42)
-0.27%
SLV
16.8675
$0.13
0.75%
SPY
300.95
$0.79
0.26%
TLT.O
139.03
$0.75
0.54%
UNG
23.0262
($0.25)
-1.07%
US500
3005.68
$7.72
0.26%
USO
12.29
($0.55)
-4.25%
UUP
26.72
($0.12)
-0.43%




SECTORS
Symbol
Last
Chg.
Chg. %
RWR
104.69
$0.81
0.78%
XBI
83.5
($0.29)
-0.35%
XHB
43.4
$0.10
0.23%
XLB
58.63
$0.46
0.79%
XLE
62.237
($0.93)
-1.47%
XLF
28.39
$0.02
0.07%
XLI
79.25
($0.03)
-0.04%
XLK
81.27
$0.31
0.38%
XLP
60.81
$0.36
0.60%
XLU
63.46
$0.56
0.89%
XLV
91.44
$0.13
0.14%
XLY
122.57
$0.73
0.60%
XRT
42.75
($0.32)
-0.74%




CRYPTOS
Symbol
Last
Chg.
Chg. %
AUD
74.21
($0.01)
-0.01%
AUD
0.6864
$0.00
0.00%
EUR
1.613
$0.00
0.08%
EUR
1.0992
$0.00
-0.02%
EUR
0.8856
$0.00
0.01%
EUR
119.69
($0.01)
-0.01%
EUR
1.1071
$0.00
0.00%
GBP
1.8213
$0.00
0.09%
GBP
135.15
$0.01
0.01%
GBP
1.2501
$0.00
0.00%
USD
1.3247
$0.00
0.05%
USD
0.9929
$0.00
-0.01%
USD
108.12
($0.01)
0.00%




FOREX
Symbol
Last
Chg.
Chg. %
BCH/USD
320.12
$13.29
4.33%
BTC/USD
10226
($28.00)
-0.27%
DASH/USD
94.98
$2.36
2.55%
DENT/USD
0.0012
$0.00
0.00%
DGB/USD
0.008106
$0.00
5.21%
EOS/USD
4.0904
$0.02
0.48%
ETH/USD
209.45
$10.54
5.30%
LTC/USD
74.44
$1.91
2.63%
OMG/USD
1.1096
$0.05
4.90%
RDD/USD
0.001381
$0.00
-0.65%
SALT/USD
0.22776
$0.00
0.00%
THETA/USD
0.1058
$0.00
0.47%
XRP/USD
0.2881
$0.03
10.43%



Bullish TA
212
23
New 52-week Highs
102
-53
Strong Volume Gainers
21
1
Bullish 50/200-day MA Crossovers
72
-20
Bullish MACD Crossovers
10
-2
Oversold with an Improving RSI
204
-326
Moved Above Upper Bollinger Band
249
-318
Moved Above Upper Price Channel
183
-225
Moved Above Upper Keltner Channel
126
26
Improving Chaikin Money Flow
261
-97
New CCI Buy Signals
189
-35
Parabolic SAR Buy Signals
208
-169
Stocks in a New Uptrend (Aroon)
131
-59
Stocks in a New Uptrend (ADX)
66
-193
Gap Ups
0
-16
Breakaway Gap Ups
11
-127
Runaway Gap Ups
0
-2
Island Bottoms

Bearish TA
101
20
New 52-week Lows
99
8
Strong Volume Decliners
23
-4
Bearish 50/200-day MA Crossovers
136
13
Bearish MACD Crossovers
40
3
Overbought with a Declining RSI
132
19
Moved Below Lower Bollinger Band
120
18
Moved Below Lower Price Channel
83
-29
Moved Below Lower Keltner Channel
135
-3
Declining Chaikin Money Flow
199
-33
New CCI Sell Signals
399
140
Parabolic SAR Sell Signals
79
1
Stocks in a New Downtrend (Aroon)
31
-4
Stocks in a New Downtrend (ADX)
114
-20
Gap Downs
8
2
Breakaway Gap Downs
23
4
Runaway Gap Downs
1
0
Island Tops

Bullish Reversals
102
34
Bullish Engulfing
7
-4
Piercing Line
0
-1
Morning Star
5
-2
Bullish Harami
2
0
Three White Soldiers

Bearish Reversals
149
86
Bearish Engulfing
8
3
Dark Cloud Cover
1
0
Evening Star
74
17
Bearish Harami
5
-2
Three Black Crows

Bullish P&F
2091
-198
P&F Double Top Breakout
295
-12
P&F Triple Top Breakout
58
-10
P&F Spread Triple Top Breakout
595
-50
P&F Ascending Triple Top Breakout
41
-3
P&F Quadruple Top Breakout
94
-12
P&F Bearish Signal Reversal
51
-4
P&F Bear Trap
23
-4
P&F Bullish Catapult
48
-6
P&F Bullish Triangle
545
0
P&F Low Pole

Bearish P&F
1549
17
P&F Double Bottom Breakout
194
-2
P&F Triple Bottom Breakdown
38
2
P&F Spread Triple Bottom Breakdown
514
-17
P&F Descending Triple Bottom Breakdown
30
3
P&F Quadruple Bottom Breakdown
57
2
P&F Bullish Signal Reversal
32
-2
P&F Bull Trap
17
-2
P&F Bearish Catapult
45
6
P&F Bearish Triangle
306
49
P&F High Pole
50
0
P&F Long Tail Down
---
Comments
Stocks are looking Bearish for the rest of the week.
On Saturday, Jupiter will form a square with Neptune and will be parallel Saturn. In the past, this has led to a dip in price. See charts below.
Both of these Jupiter aspects are also associated with large moves in Gold.
---
Tolstunka Predictions
SEP 16, 2019 (MON): Medium influence; market may possibly go up (55-60%). Pre-open and in the early am, the market may be down, but will probably change to up later in the day.
Sep 16 – 22 (esp. 19-23) and continuing through the end of Sep — Increased news about wet weather (e.g., rains, floods, hurricanes), fluctuations in oil prices [probably going up], gas leaks, chemical weapons, pharmaceuticals, infectious diseases (incl. related to animals, such as swine flu), maritime accidents (esp. involving explosions, chemical attacks, diseases, or poisoning), problems with shipments over water or traveling by water (e.g., cruise ship is stuck, large boat with illegal immigrants sustains damage, ship is attack by pirates, shipment is stuck due to legal issues, etc.), confusion over international laws and deals/negotiations, etc. Increased market volatility with very large moves. [The probability of large maritime disasters, accidents involving oil or gas, major hurricane/flood damage, problems with oil or pharma, international tensions, etc. will continue to strengthen in the following weeks, esp. 27-28.]
USA: Sep 16 – 22 (esp. 20-21) — Increased focus on oil, gas, navy, pharma, chemicals, drugs, beverages, religion, wet weather, etc. but also banks, real estate, food safety, farming, homeland security, leaders, and power status in the world. On Sep 17-18, there may be an important announcement about a new leader or a famous person (e.g., someone is appointed to an important position, achieves recognition, or falls sick); the person is more likely to be a male.
USA: Sep 16 – 19 — Increased focus on international partnerships and negotiations. Communication may increase and some deals may be augmented more than expected (e.g., a greater or smaller proportion of items is affected by some new tariff). A deal may be reached on Sep 17 and there may be excessive optimism about it on Sep 18-19. Alternatively, a deal involves overpaying for something or money is seen as wasted or allocated incorrectly — in the short term, the country may gain from the deal, its status may go up and/or global influence may increase (esp. as related to banks, finance, currency) but the deal may also be seen as undermining long-term goals.
SEP 17, 2019 (TUE): Medium influence; market may possibly go up (60%).
Sep 17- 19 — Increased news about military plans, military force, weapons (e.g., sales, build, accumulation, distribution), military preparedness, using military/weapons to fight disease or help with some disaster, using military/weapons to support a power shift at a governmental level, etc. There may also be increased news about nuclear weapons and nuclear power — some related projects may proceed smoothly and without obstacles (e.g., new initiatives are passed, weapons are easily transported, troops are relocated, military force strengthens, power is generated, new weapon is released, etc.).
Sep 17-18 may see some sort of a shift or turn-around related to steel, coal, metals, minerals, mines, governmental initiatives or leaders — like an old leader comes back, someone's popularity drastically changes, a totally new leader emerges, a previously closed business/mine/building/bridge/tunnel is reopened or vice versa, an old established company/business/governmental entity is shut down or a long-standing leader is removed. Some ongoing initiative related to the areas above may be put on hold, or, some previously delayed initiative is finally given a green light.
SEP 18, 2019 (WED): Medium influence; market may possibly go up (60%).
China: Sep 18-20 — Some agreement or deal with international partners may be in the news. The deal may be reached on the 18th with diplomatic means. On the 20th, there may be more positive news for the country, such as that the deal or negotiations helped to improve earnings.
SEP 19, 2019 (TH): Medium influence; market may possibly go up (60-65%).
SEP 20, 2019 (FR): Medium influence; market may possibly go up (60-65%).
USA: All week, but especially on Sep 20-21 — Increased focus on oil, gas, navy, pharma, chemicals, drugs, beverages, religion, wet weather, etc. as well as banks, real estate, food safety, farming, and homeland security. We may hear about accidents, arguments, fires, attacks, protests, etc. For ex., a fire on a boat, a gas leak and explosion, arguing about oil, accident at an oil rig (or at some oil-related business), upset over an unexpected bold/risky move that affects banks/savings/real-estate, and so on. The issue(s) may affect banks and their assets, real-estate, savings, farmers, and/or food production (e.g., some decision is more harsh or bold than expected, land is contaminated from an accident, business related to farming/banking/oil/navy/chemicals suffers fire damage or is attacked, etc.). The events may be seen as too drastic, anger-inducing, problematic, involving too much force/lies/confusion, involving risky moves, or poorly executed.
---
Bitcoin Forecast for 2019
This years forecast also includes an interactive Excel workbook with all the cycles on one chart.
Checkout the past forecast and how Bitcoin price reacted.
Get your copy here
50% off = $65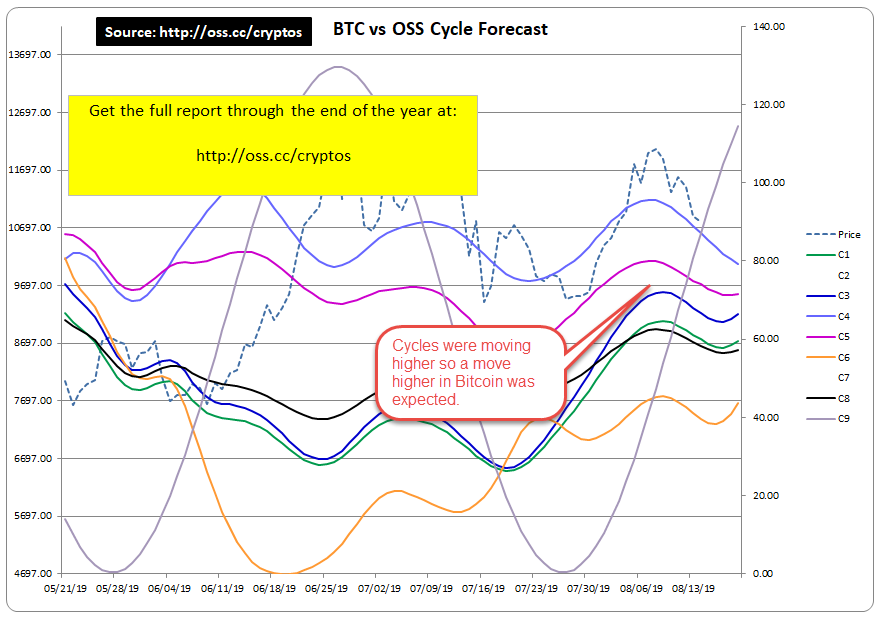 50% off = $65
NIGHTLY NEWS
http://money.cnn.com/data/fear-and-greed/
---
Abbreviations
[DR] -- Double Reversal
[TR] -- Triple Reversal
[QR] -- Quadrupal Reversal
[CIR] -- Cyclical Inverse Reversal
---