Follow me at: Twitter | FaceBook | StockTwits
Market Activity for: Mar 25, 2019
MAJOR
Symbol
Last
Chg.
Chg. %
.DJI
25516.83
$14.51
0.06%
.DJT
10000.79
($51.51)
-0.51%
.NDX
7316.96
($9.10)
-0.12%
GBTC.PK
4.57
($0.22)
-4.64%
GLD
124.92
$0.95
0.77%
IWM
150.28
$0.66
0.44%
SLV
14.56
$0.11
0.76%
SPY
279.04
($0.21)
-0.08%
TLT.O
125.06
$0.20
0.16%
UNG
24.39
($0.02)
-0.08%
US500
2798.36
($2.35)
-0.08%
USO
12.25
$0.02
0.16%
UUP
25.8
$0.00
0.00%




SECTORS
Symbol
Last
Chg.
Chg. %
RWR
97.82
$0.04
0.04%
XBI
87.99
$0.13
0.15%
XHB
38.17
$0.49
1.30%
XLB
54.23
($0.10)
-0.18%
XLE
65.5
$0.03
0.05%
XLF
25.23
($0.11)
-0.43%
XLI
73.12
$0.17
0.23%
XLK
73
($0.32)
-0.44%
XLP
55.19
$0.11
0.20%
XLU
58.54
$0.05
0.09%
XLV
90.57
($0.05)
-0.06%
XLY
112.33
$0.66
0.59%
XRT
43.92
$0.50
1.15%




CRYPTOS
Symbol
Last
Chg.
Chg. %
BCH
250
($197.34)
-44.11%
BTC
3980.6
($67.00)
-1.66%
DASH
89.34
($1.80)
-1.97%
DENT
0.0012
$0.00
0.00%
DGB
0.012408
$0.00
-1.12%
EOS
3.6837
($0.01)
-0.39%
ETH
135.87
($2.33)
-1.69%
LTC
58.79
($1.18)
-1.97%
OMG
1.6652
($0.07)
-4.13%
RDD
0.001254
$0.00
-1.65%
SALT
0.22776
$0.00
0.00%
THETA
0.1082
($0.01)
-7.28%
XRP
0.3033
$0.00
-1.24%




FOREX
Symbol
Last
Chg.
Chg. %
AUD/JPY
78.33
$0.14
0.17%
AUD/USD
0.7119
$0.00
0.11%
CHF/GBP
0.7638
$0.00
0.14%
EUR/CHF
1.1227
$0.00
0.03%
EUR/GBP
0.8575
$0.00
0.13%
EUR/JPY
124.51
$0.14
0.12%
EUR/USD
1.1315
$0.00
0.03%
GBP/AUD
1.8537
$0.00
-0.11%
GBP/JPY
145.2
$0.04
0.02%
GBP/USD
1.3196
$0.00
-0.05%
USD/CAD
1.3394
$0.00
-0.06%
USD/CHF
0.9923
$0.00
0.00%
USD/JPY
110.04
$0.09
0.08%



Bullish TA
308
-159
New 52-week Highs
88
3
Strong Volume Gainers
62
-8
Bullish 50/200-day MA Crossovers
104
10
Bullish MACD Crossovers
4
-3
Oversold with an Improving RSI
176
-63
Moved Above Upper Bollinger Band
139
-46
Moved Above Upper Price Channel
119
-11
Moved Above Upper Keltner Channel
114
29
Improving Chaikin Money Flow
188
-64
New CCI Buy Signals
149
-85
Parabolic SAR Buy Signals
73
-13
Stocks in a New Uptrend (Aroon)
36
-31
Stocks in a New Uptrend (ADX)
88
-7
Gap Ups
2
1
Breakaway Gap Ups
14
-1
Runaway Gap Ups
1
-1
Island Bottoms

Bearish TA
206
40
New 52-week Lows
77
-5
Strong Volume Decliners
10
-1
Bearish 50/200-day MA Crossovers
534
1
Bearish MACD Crossovers
51
-99
Overbought with a Declining RSI
263
-478
Moved Below Lower Bollinger Band
277
-565
Moved Below Lower Price Channel
162
-299
Moved Below Lower Keltner Channel
149
-163
Declining Chaikin Money Flow
728
-147
New CCI Sell Signals
942
100
Parabolic SAR Sell Signals
345
-99
Stocks in a New Downtrend (Aroon)
109
22
Stocks in a New Downtrend (ADX)
124
8
Gap Downs
6
0
Breakaway Gap Downs
21
0
Runaway Gap Downs
1
1
Island Tops

Bullish Reversals
85
69
Bullish Engulfing
42
42
Piercing Line
0
-2
Morning Star
40
37
Bullish Harami
5
-1
Three White Soldiers

Bearish Reversals
36
-136
Bearish Engulfing
4
-15
Dark Cloud Cover
0
-4
Evening Star
14
-47
Bearish Harami
13
-2
Three Black Crows

Bullish P&F
1546
-225
P&F Double Top Breakout
231
-16
P&F Triple Top Breakout
32
-9
P&F Spread Triple Top Breakout
381
-86
P&F Ascending Triple Top Breakout
27
-3
P&F Quadruple Top Breakout
99
-11
P&F Bearish Signal Reversal
57
-6
P&F Bear Trap
16
-5
P&F Bullish Catapult
28
-2
P&F Bullish Triangle
510
-56
P&F Low Pole

Bearish P&F
1949
273
P&F Double Bottom Breakout
247
29
P&F Triple Bottom Breakdown
39
6
P&F Spread Triple Bottom Breakdown
529
51
P&F Descending Triple Bottom Breakdown
33
3
P&F Quadruple Bottom Breakdown
83
21
P&F Bullish Signal Reversal
49
0
P&F Bull Trap
24
2
P&F Bearish Catapult
58
5
P&F Bearish Triangle
512
51
P&F High Pole
40
8
P&F Long Tail Down
---
Highlights
New Home Sales, Permits Expected to Dip
Shares of the pot company Cronos (CRON) rose 6%. Earnings to be report before the bell on Tuesday.
Crude rose amid supply cuts.
Gold still above $1,300
Wall Street Closes Flat Amid Falling U.S. Bond Yields
To get all charts and trade recommendation, sign-up for the OSS INDICATORS Service below.
---
Bitcoin Forecast for 2019
This years forecast also includes an interactive Excel workbook with all the cycles on one chart.
Checkout the past forecast and how Bitcoin price reacted.
Get your copy here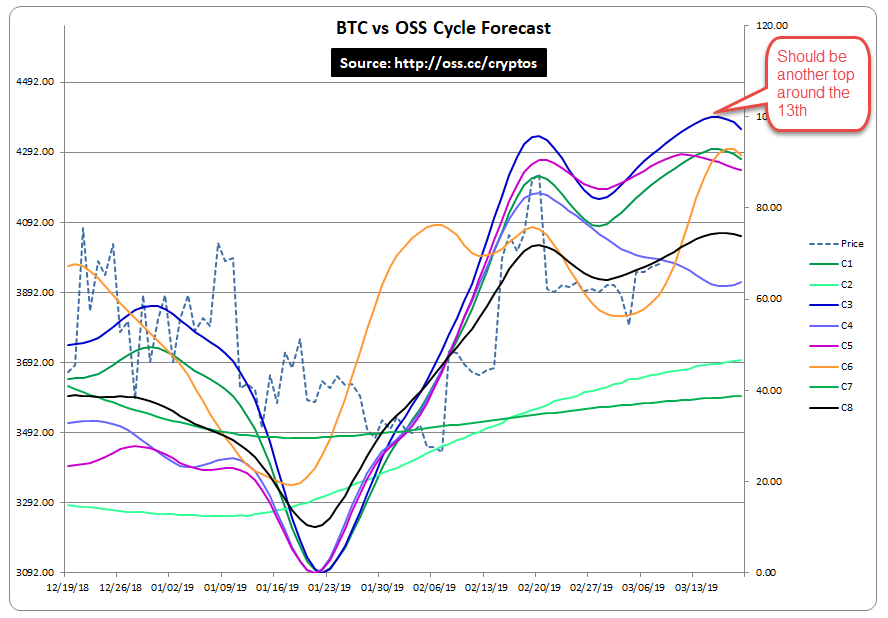 ---
OSS INDICATOR CALENDAR -- LAST WEEK
From now on I will be posting last week's calendar as marked-up images in the charts section. Hope this is easier to understand.
You can learn to read these calendar indicators through these weekly lessons: Click Here
CRYPTO NEWS
NIGHTLY NEWS
http://money.cnn.com/data/fear-and-greed/
---